The Toyota Harrier is a 5-passenger compact, later mid-size crossover SUV produced by Toyota in 1997 in Japan. From the first moment seeing or riding off in the harrier, it resonates with a focus on sensory quality as it is more like an enriching partner. In a clear distinction from other SUVs, the Harrier brings together simplicity, elegance and robustness in a fluent coupe form. Its high-quality interior space provides a sense of security from the first moment inside the cabin. As the vehicle drives off, a feeling of comfort is engendered through responsive driving performance, while the quiet cabin leads naturally to pleasurable conversations with friends. Spending time with the Harrier will be an enriching experience.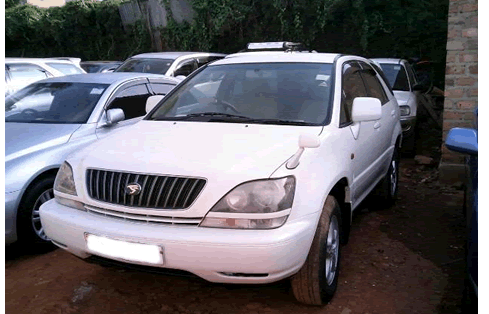 Hiring a Harrier for your wedding will be worthwhile since its interior is a show of real high class, luxury and comfort. The SUV boasts of the interior spots black leather upholstery, deep burgundy leather, a wrapped dashboard and a side panel. The exterior of the vehicle is elegantly designed with improvements especially in curves, wide lower grille which is hexagonally trimmed. This makes it outstanding and in other words, you will have no reason whatsoever to complain when it comes to style and taste when you choose this monster ride as your wedding car.
To rent a Harrier in Uganda for a wedding, airport transfer, business or leisure trip , simply send us an email to inof@dkrentacaruganda.com or call us directly on +256774071656 or +25652429596 and speak with the reservations team.