Top 5 4×4 Off-Road Vehicles Perfect For Safaris In Uganda
An off-road vehicle aka overland or adventure vehicle is a 4×4 car built to handle both gravel and non-gravel surfaces. The off-road vehicles feature a 4-wheel drive mechanism with high ground clearance, raised tires and flexible suspension which enables the vehicle to traverse even the roughest of terrain, through flooded roads and slippery surfaces.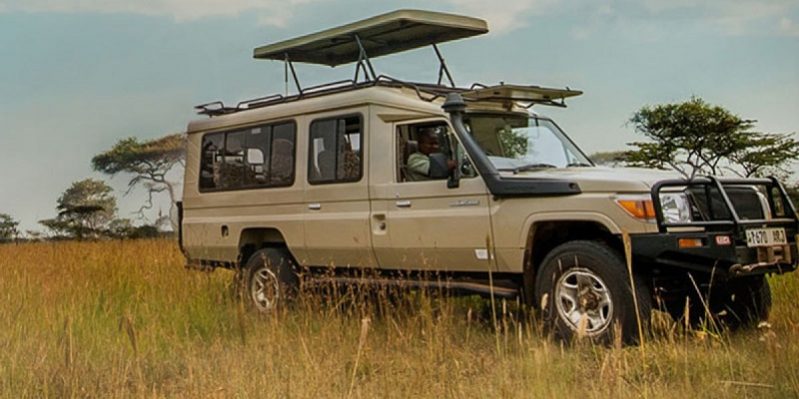 If you are planning to safari Uganda and require a strong 4×4 car, then an off-road vehicle will do the job. The majority of national parks and tourist attractions in Uganda are situated in some of the most remote regions of the country and if you are not driving an off-road vehicle, then be prepared for a disastrous road trip filled with stop-over cause of either getting stuck in a ditch, failing to ascend a steep hill or even engine failure.
DK Car Rental is one of the most trusted and reliable 4×4 car hire companies in Uganda and we offer well serviced off-road vehicles to all types of travelers. There are several off-road vehicles in Uganda but based on past client requests and reviews, we have narrowed it down to the best 5.
Recommended Off-Road Vehicles Ideal For Safaris
1- Safari Land Cruiser – A timeless 4×4 car used as early as the 18th century by explorers, the safari land cruiser is truly the best overland adventure vehicle. The safari land cruiser can seat up to 7 people comfortably with an extended version seating up to 9, it features a pop-up roof and cooler box with highly raised tires and adequate space for cargo in the rear. Rates – From US$ 140 per day with a driver-guide excluding fuel.
2- Land Rover – Another popular off-road vehicle ideal for safari adventures is the Land Rover, a full-size 4×4 car that can seat up to 5 people comfortably with a hard body and high ground clearance capable of handling even the toughest of terrain. If you are looking for an affordable 4×4, then you should hire a Land rover in Uganda for your next overland adventure. Rates – From US$ 100 per day with a driver excluding fuel
3- Toyota Rav4 – One of the cheapest on and off-road vehicles for hire in Uganda is the Rav4, a small compact 4×4 SUV that can seat up to 4 people comfortably ideal for couples planning a self drive safari in Uganda. The recreational active vehicle might be small in size and tire height but can handle the park terrain very well but not so reliable on muddy tracks. Rates – From US$ 45 per day self drive excluding fuel
4- Safari Van – The mid-sized 4×4 minivan is the perfect vehicle for family and small group road trips seating up to 8 people comfortably including the driver. The safari van features a pop-up roof that offers tourists a chance to get clear views and pictures of the wild securely inside the van, it also comes with cooler box but has limited space for cargo in the rear. Rates – From US$ 100 per day with a driver exlcuding fuel.
5- Roof-top tent Land cruiser – If you are planning a camping safari in Uganda and require a good 4×4 off-road vehicle for the trip, then you should consider hiring a customized camping Land cruiser that comes with a roof-top tent accommodating up to 5 people comfortably. The camper cruiser rooftop tent can accommodate a maxim of two people plus you will get the full camping gear set when you decide to book this 4×4. Rates: From US$ 140 per day self-drive excluding fuel.
Have you been searching for the ideal off-road vehicle for hire in Uganda, you can choose from the above 5 vehicles and be assured of a safe and comfortable Uganda safari trip. To book or inquire about availability, simply send us an email to info@dkrentacaruganda.com or call us now on +256-774071656 / +256-752429596 to speak with our team.