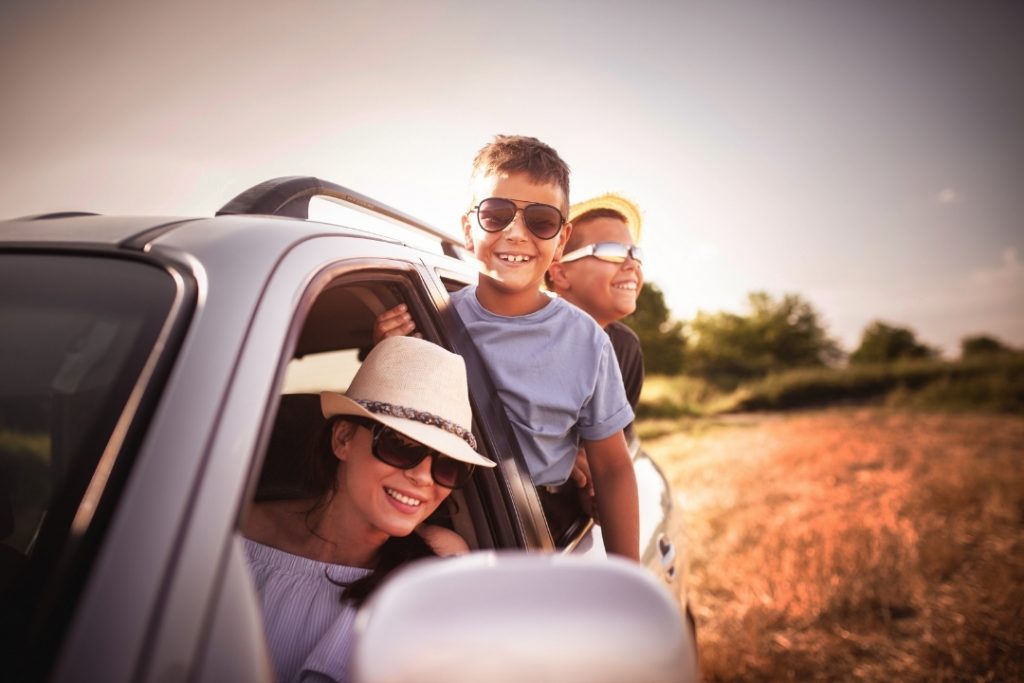 Best Family Cars To Hire In Uganda
Traveling with family is always an exciting experience, get the time to bond & interact as you learn and discover new things with people you treasure the most. Perhaps you wonder which car type will suit your family road trip needs. Which car will be most comfortable for you, the children & elderly? Whether you will be exploring the parks or touring a popular tourist destination in Uganda, there is no denying that you will need to choose a car that can fit all your family members + cargo comfortably.
DK Car Rental offers a wide variety of car categories in Uganda ideal for family vacations and we have prepared this article to help you make the right car choice when you decide to tour Uganda with family this season.
Things To Consider When Choosing A Family Car In Uganda?

Comfort level
Passenger space & leg room
Cars ability to add baby seats
Flexible seats to allow space for more cargo or passenger space
Safety gear like first aid box
1- Vans – 7 to 8 seater vans have always been the number one choice for big families given the extra seats they offer. There are a variety of vans for hire in Uganda to choose but the most popular ones available include the Safari van; minivan totally customized for park tours featuring a pop-up roof, Super custom van; perfect for trips around the city, Alphard; the ideal van for luxury or VIP family road trips.  Van rental prices in Uganda range from US$ 80 to US$ 100 per day with a driver excluding fuel.
2- SUVs –  Sports Utility Vehicles combine features of regular road-ongoing cars with those of the off-road vehicles making these cars perfect for city tours as well long-distance trips.  The multi-functional SUVs can carry between 5 to 7 passengers with space for cargo in the rear. Some of the most popular SUVs for hire perfect for families include the Rav4, Harrier, Ipsum, Noah, Forester among others and rental prices range from as low as US$ 45 to  US$ 65 per day with driver excluding fuel.
3 – 4×4 Station wagons – Another car category ideal for family trips in Uganda is the 4 wheel drive station wagon, an advanced sedan with roof extending to the rear + shared passenger/luggage compartment. The station wagons can seat between 5 to 6 passengers comfortably and can handle any type of terrain making them the perfect cars for families planning to visit the national parks or remote destinations in Uganda. Some of the popular station wagons available in Uganda include the Safari Land cruiser; a customized 8-seater Land cruiser featuring a pop-up roof and spacious cargo space in the rear ideal for family camping road trips. Others include the Land cruiser Prado, Toyota Hilux, Nissan patrol among others. Prices range from US$ 80 to US$ 150 per day with driver excluding fuel.
4- Minibuses – If you plan on traveling as two or more families, then you should book a mid-sized bus and forego vans.  A minibus can carry between 28 to 3o passengers but normally doesn't have a cargo compartment so you have to pack light as the roof racks cant accommodate huge cargo. You can rent a coaster bus in Uganda and explore the city, national parks or any other destinations given the bus has a 4 wheel drive mechanism that allows it to pass through tough terrain, muddy, slippery & steep slopes. Coaster bus rental prices range from US$ 140 to 160 per day with a driver excluding fuel.
Looking for the ideal family cars for hire in Uganda that suits your family needs as well budget, then you can choose from the above 4 car categories to save money and time. To rent a van, SUV, minibus or station wagon in Uganda , simply send us an email to info@dkrentacaruganda.com or call us now on +256-774071656 / +256-752429596 to speak with our team.