Top 3 Most Requested Land Cruisers For Hire In Uganda
The Land Cruiser is a series of 4×4 vehicles manufactured by Toyota Motors and is the longest-running series of models. Selling millions of units each, the land cruiser is arguably Toyota's top brand produced in four body styles namely; convertible, cab chassis, station wagon and hardtop.
The Land cruiser's reliability and longevity is what make this vehicle very popular among tourists planning to explore Uganda. Land cruisers offer a 4×4 mechanism that allows it to traverse all types of terrain making it the perfect 4×4 car to hire if you planning to visit the national parks and remote attractions of Uganda.
Uganda is one of the most popular safari destinations in Africa visited by all types of travelers across the globe. The majority nowadays prefer to self drive Uganda over traveling with a driver. They are always looking for a spacious but affordable rental car- one that can be used within the city as well as in remote regions and that's where the Land Cruiser comes in- unmatched strength, affordable with spacious space for cargo and passengers.
There are a variety of land cruisers for hire in Uganda and in this article, we will focus on 4 of the most requested land cruisers plus their rental prices.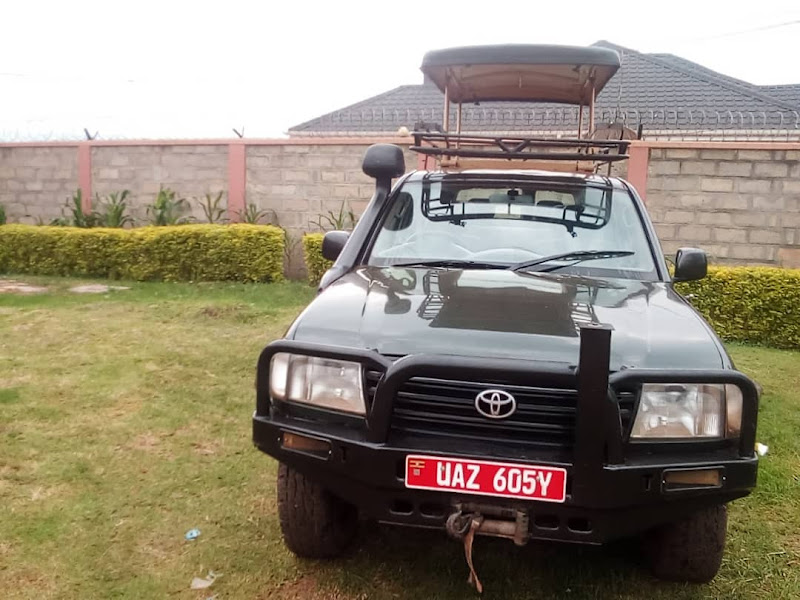 1- Safari Land Cruiser – The safari land cruiser is a very popular land cruiser for hire in Uganda requested by travelers planning to safari or camp in Uganda. Customized with a pop-up roof and cooler box, the safari land cruiser has a high ground clearance with a full-time 4-wheel drive that enables it easily traverse rugged terrain and steep slopes. This 4×4 land cruiser can seat up to 7 people comfortably with the extended version accommodating an extra 2 making it the perfect vehicle for families and small groups.
Rate: US$ 180 per day with driver-guide excluding fuel.
2- Land Cruiser Prado TX – Another popular land cruiser in Uganda is the Prado TX or simply Toyota Prado. This full-size 4×4 can accommodate up to 5 people comfortably with a spacious interior that features adjustable well-spaced seats plus a cargo area. The land cruiser is ideal for self drive and driver-guided trips around the city, suburbs and national parks given it's 4×4 mechanism and high ground clearance that allow it to pass through off-the-beaten tracks easily.
Rate: US$ 80 per day on self drive in Uganda excluding fuel.
3- Hardtop – The Land cruiser hardtop or J40 is another series of Land Cruisers manufactured between 1960 to 2001. The hardtop land cruiser has a traditional body-on-frame style with a hard frame hence the name. A hardtop land cruiser can accommodate up to 5 people comfortably and given it's high ground clearance, 4×4 mechanism and huge tyres- it's safe to say the hardtop can be a perfect land cruiser to hire in Uganda if you are planning a safari, research project or business trip in the remote regions.
Rate: US$ 100 per day with driver- excluding fuel
So if you are planning to self drive Uganda or travel with a driver and require a strong, reliable full-size 4×4 car  for hire in Uganda, then you look no further than the land cruiser models. We at DK Car Rental offer a wide range of well-serviced Land cruisers for hire in Uganda – Just get in touch with us today by sending an email to  info@dkrentacaruganda.com or call us now on +256-774071656 / +256-752429596 to speak with our team