Why The Safari Van Is The Ideal Car To Hire For Group Safari
A group safari is the best way to experience Uganda with friends, family or workmates, creating long lasting bonds and making new friends along the trip. Howver, you have to be careful when choosing  transportation mode- will it be a 4×4, SUV, minivan or bus and how many people does ech seat. There are a variety of group safari cars for hire in Uganda and the safari van tops the list based on customer requests and statistics from savvy travelers.
Are you planning a group safari this season and wondering which car type to book, below are 4 reasons why you should hire a safari van in Uganda over other vehicles.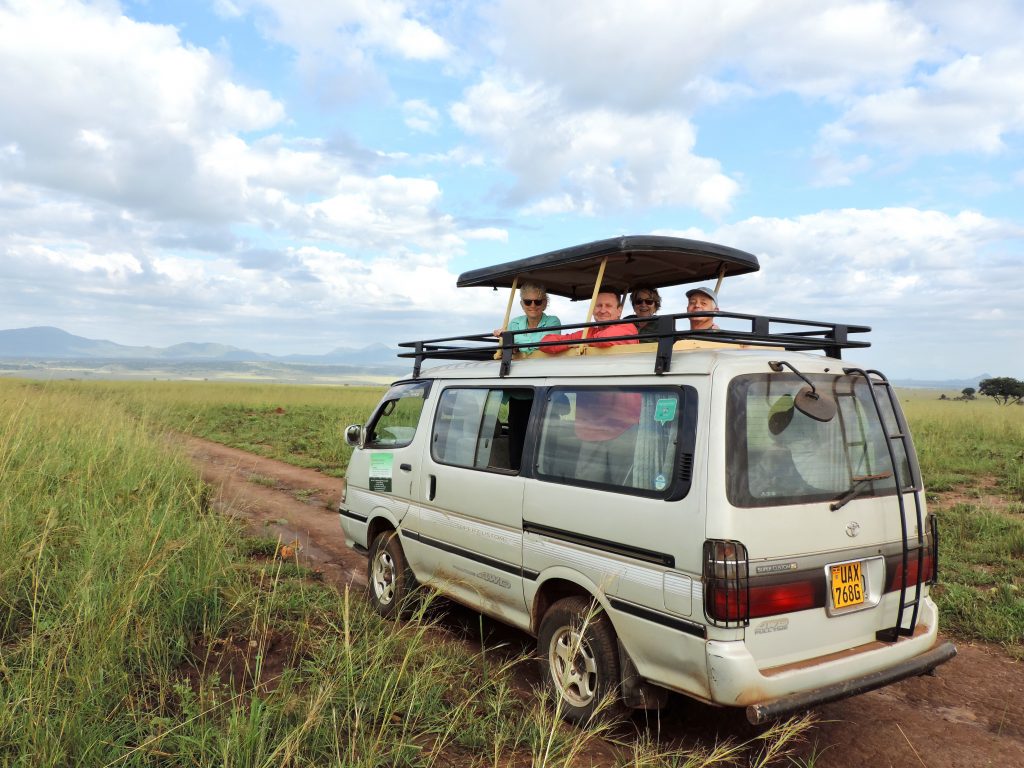 Spacious – The safari van seat between 6 to 9 people comfortably in well spced fully adjustable 3-row seats. The high hed spacec coupled with adquate leg room and number of seats makes it the best car to hire for group safaris or family holiday tours. The adequate crgo space in the rear and rooftop ensures tourists dont get squeezed adding more comfort during the trip.
4×4 – The four-wheel drive mechanism is another reason why you should hire a safari van in Uganda over others. The 4×4 enables the car to use all four wheels simulataneously hence allowing it to traverse any type of terrain easily including steep slopes, slippery or muddy surfaces. You dont have to worry about getting stuck in the park when you book a 4×4 safari van.
Pop-up roof–  The pop-up roof is very useful during game drives as it allows tourists to peep out of the roof and get clear views of the wildlife and nature as they feel the park breeze. The pop-up roof can fit up to 4 people at a time and you will get elevation by standing on the seats.
Affordable – Last but not least, the safari van is the most affordable group safari vehicle for hire in Uganda when compared to the safari land cruiser and coaster bus which cost 130 to 180 $ per day exclufing. For as low as 80$, you can get a safari van with a driver-guide.
So if you are planning a group safari in Uganda this season and wondering which vehicle to use for the trip, then look no further than the 4×4 safari vn givent its comfortability, affordability and special features. To rent a safari van in Uganda this season, simply send us an email to to info@dkrentacaruganda.com or call us now on +256-774071656 / +256-752429596 to speak with our team