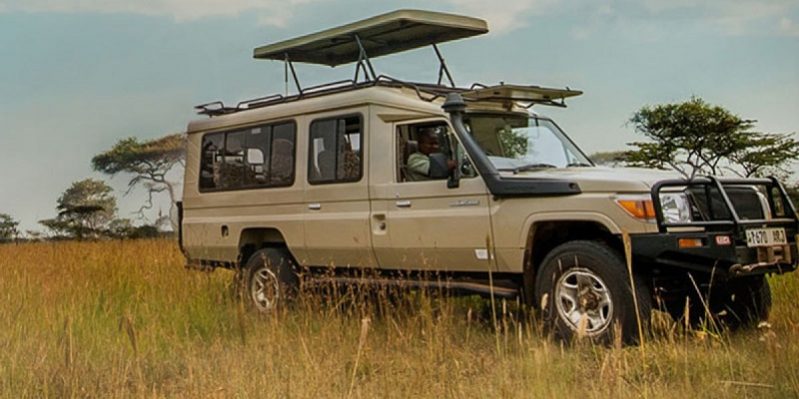 Top 4 4×4 Cars To Hire Uganda For A Comfortable Park Trip
Recognized across the world as one fo Africa's prime safari destinations, Uganda is truly a land gifted with a variety of attractions that range from rich culture & wildlife to spectacular landscapes and water bodies. These amazing attractions are spread across all corners of the country and the best way to get there is by means of a well-serviced 4×4 car, it could be with a driver or for self drive but there is no denying that it's much safe and more comfortable to explore Uganda is a private rental car.
There are a variety of car rental companies offering a wide range of 4×4 cars for hire in Uganda but you always have to be careful when choosing one to book with and most importantly choose an ideal 4×4 car that fits your travel budget as well as personal needs to save money & time. You need a car that can handle the rough terrain, traverse steep  & muddy slopes but at the same time giving you the same level of comfort as a luxury car would.
We offer a number well-serviced 4×4 cars in Uganda but the 4 cars in this article top the list due to their unique interior & exterior features, price range, fuel economization as well as ease of driving.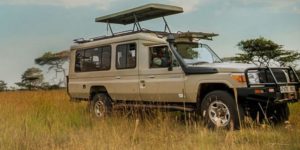 1- Safari Land cruiser – Top of the list of 4×4 cars for hire in Uganda is the all mighty Safari land cruiser, one of the most popular safari cars in the world perfect for park tours, camping adventures, research projects, photography to mention but a few activities that may reuire a strong 4×4 like the cruiser. It features a pop-up roof ideal for game drives,  a fridge box for refreshments and when you add on the high ground clearance and adequate cargo space in the trunk, you got the perfect 4×4 for any road trip. An ordinary safari land cruiser can seat up to 7 people comfortably while the extended version can carry to 9 people ideal for family vacations. Rates range from US$ 120 to 150 per day with driver if you want to hire a safari land cruiser in Uganda for a guided park tour.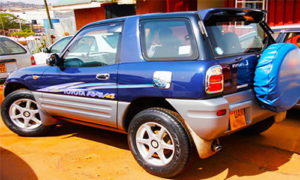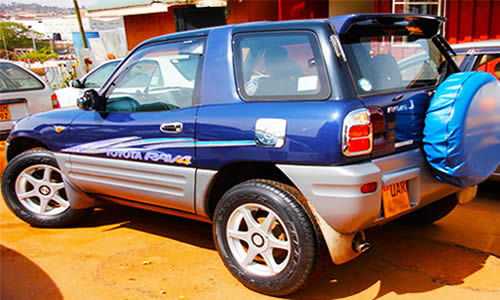 2- Toyota Rav4 – Another nice 4 wheel drive car to hire for a park tour in Uganda is the Toyota made Rav4, this compact SUV is one of the most requested 4×4 cars in Uganda mostly booked for self drive road trips by solo travelers and couples planning to tour the parks, business or leisure road trip. The rav4 can seat up to 4 people comfortable with specious cargo space in the trunk and functioning air conditioner. Not only is it easy to drive, the Rav4 is also good at economizing fuel hence helping you save money. The rental price for a Rav4 ranges starts from US$ 40 per day for self drive excluding fuel.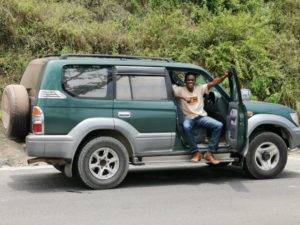 3- Land Cruiser – Another invention by Toyota motors, the Land Cruiser is one of the best 4×4 station wagons on the Uganda car rental market. The 4 wheel drive cruiser can seat up to 5 people comfortably with enough space for cargo in the rear nit to mention the adequate leg room offered for passengers to enjoy a comfortable road trip. Just like the other 4×4 cars mentioned, the Land Cruiser can handle the rough terrains of the parks with high ground clearance and a body built to handle all types of weather.  Land cruiser rental prices in Uganda start from US$ 70 per day excluding fuel.
4 – Safari van – planning to tour Uganda's parks as a small group of about 6 to 8 people, then you should hire a safari van in Uganda for a comfortable group trip. The 4×4 minivan can accommodate up to 8 people with enough space for cargo in the rear as well as rooftop. Just like the safari land cruiser, this tourist van features a pop-up roof with a fridge box as well making it the perfect vehicle for camping trips and game drives. The rental price for a safari van starts from US$ 80 per day with a driver excluding fuel.
So if you are planning to tour Uganda's national parks or visit any remote destination within the country, the you should strongly consider hiring a 4×4 car for a safe and comfortable trip. Check out our fleet of rental cars in Uganda and get back to us to inquire about availabilty and rates. You can simply send us an email to info@dkrentacaruganda.com or call us now on +256-774071656 to speak to us.