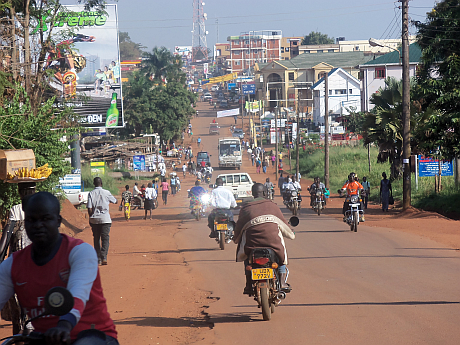 Top 5 Rental Cars In Kampala City
Uganda's capital Kampala is the busiest town around the country with lots of businesses to transact, meetings and conferences organized and other aspects regarding the field. It has a number of places where businesses are carried out and business meetings held, that is around the city centre as well as the town outskirts. Due to its strategic location, Kampala attracts a lot of businessmen and women and this is why it is frequently and filled with many shareholders. They often look for high-class transportation for their business trips and here are the top 5 cars for hire in Kampala that will offer the perfect travel experience.
Range rover sport
This is a luxury car that offers typical first class travel. The 4WD vehicle has an iconic, magnificent and shinny exterior. Travelling in a range rover means moving in ultimate comfort because of the cozy leather seats and a generally neat interior. It is a stylish car ideal for transportation when meeting your partners or going to a high end venue for a business meeting.
Mercedes Benz
Other executive car options for your business trip are the categories of Mercedes Benz manufactured by Daimler AG commonly referred to as Mercedes Benz. The automobile is well known for producing luxury cars including the E class, C class, GL class to mention but a few. If you want a luxury SUV of Mercedes Benz, then you will hire a G class. These cars offer a premium executive treat during travel as the interiors are very comfortable.
Land cruiser
Hire a land cruiser and get around Kampala in style. The land cruiser V8, Prado TX and GX are all suitable for business trips around the town. These 4×4 vehicles are good in all weather conditions and can take you comfortably through unpaved roads of the outskirts of Kampala. Land cruisers have a seating capacity of 5 people and enough space for luggage in the rear.
Toyota Rav4
Produced by the Japanese automotive Toyota, the Rav4 is one of the most hired suv that is famously known for its efficient fuel consumption and therefore a perfect option when planning to make frequent movements during your business trip. We have the 3 door and 5 door Rav4s and have a seating capacity of 4 people inclusive of the driver.  Toyota Rav4 is available for hire for both self drive and with a professional chauffeur.
Premio
This is a midsized sedan car produced by one of Japan's leading automobile companies Toyota. It is the cheapest car available fir business trips in Kampala. The Toyota premio features a 4 door and a wide cargo space in the rear. It accommodates about 5 people including the driver. The car is suitable for trips to areas with paved roads and is the right car rental choice to business centers, offices and places of luxury. It can be hired for self rive or with a professional driver.
Planning for a business trip in Kampala city this season and you are looking for the perfect car to hire? Look no further than the above cars. Contact us today for your preferred vehicle for your upcoming trip. Simply send us an email to info@dkrentacaruganda.com or call us on +256774071656 and speak with the reservations team.